Description
Bulk WhatsApp professional Marketing application gives you awesome features like unlimited Message sending taste, its Allows Unlimited Multi-multimedia message sending, Numbers Filters system, Grabber of Groups Contacts, Anti Block system, sleep, speed, delay control system, and so on.
Bulk WhatsApp Sender pro marketing software allows users to send their text, images, videos, pdf, documents, etc. Here, the user can find other several tools to verify and filter mobile numbers. Groups Contacts Grabber tools to allows extracting all WhatsApp contacts from WhatsApp groups.
Bulk WhatsApp sender software anti-blocking tool reduces the chance to get blocked. This software is 100% safe and reliable and easy to use. Use WhatsApp bulk message sender to keep your account 100% secure.
Everything clients can make and keep up the WhatsApp promoting effort and furthermore control speed, a defer time among messages, and furthermore client can control rest time.
HOW TO SEND BULK WHATSAPP MARKETING SOFTWARE MESSAGES FROM PC
Why Whatsapp the best tool for marketing your business.
Bulk Whatsapp Marketing Software in Bangladesh. Bulk Whatsapp sender pro allows us to copy or import multiple contacts from the file (CSV or TXT). Buy and use our Windows app to send unlimited text, photos & PDF msg. Send it to an unlimited number of contacts. Import list from Excel files easily and instantly so faster.
It is a long time to improve your marketing strategy using this bulk WhatsApp message sender pro software. This application is not an automated tool. Enjoy software utilizes the API feature of bulk WhatsApp to send bulk messages without violating its terms and conditions.
We can provide your WhatsApp database for the different business sectors in Bangladesh.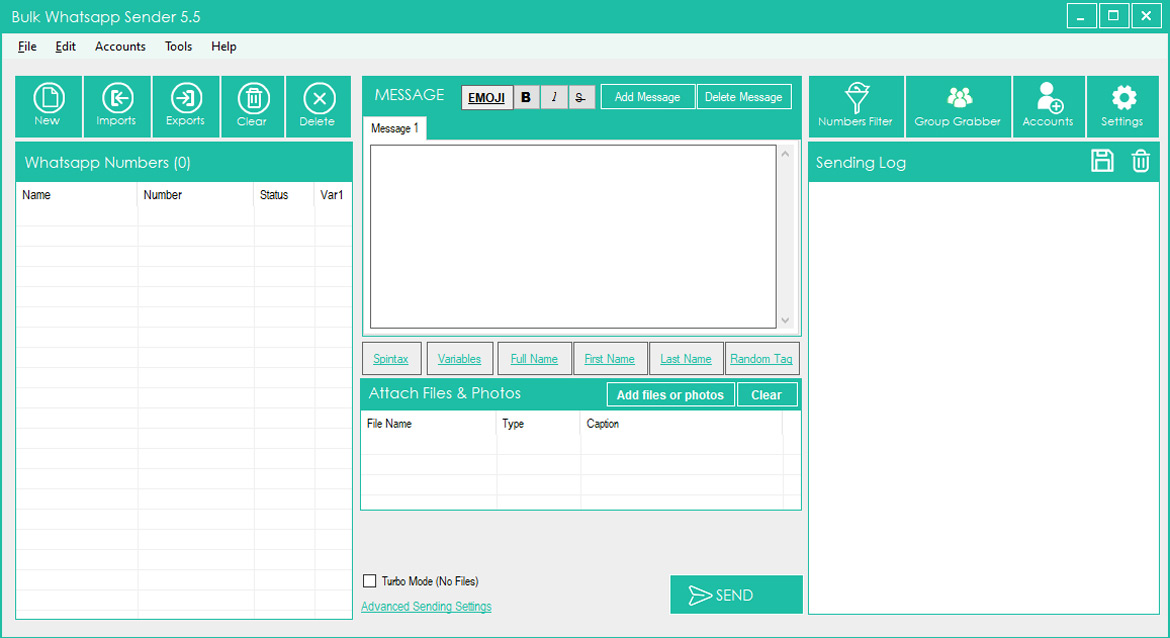 Bulk WhatsApp sender software features
✔ Instant download & use. No waiting!
✔ Send unlimited bulk WhatsApp messages to unlimited contacts.
✔ Send unlimited bulk text messages, photos, videos & documents.
✔ Import & export data from or into Microsoft Excel & .txt file.
✔ 1Year license. Free Update.
✔ Works on Windows 7, 8, 10 and supports WhatsApp and WhatsApp for business
How to bulk Whatsapp sender pro works.
How to schedule sending messages in Whatapp Sender pro

Bulk WhatsApp Sender Pro 2020 demo video:
Bulk WhatsApp marketing software in Bangladesh. Now selling the Latest version on Daraz.com.bd Order now
Pros
• Excellent training tutorial for the newbie users
• Appreciable customer service
• User-friendly interface and comfortable for the beginners
Cons
• It is a time-consuming procedure because you have to send the messages manually and there is no automatic technique.
• It permits you to send only text messages
Can we send bulk messages from WhatsApp?
Of course, why not, you can send bulk messages on the WhatsApp platform effortlessly in a precise manner. Many WhatsApp marketers implement this technique to share files for business processing during difficult times with their employees. You can send messages in any format like a word file, excel, pdf, etc for your needs.
The limitation of the bulk WhatsApp sender pro depends on the tier you occupy. If you lie on the first tier then you can send 100K messages to your customers per day. The next tier permits 10K and the following tier allows 100K messages per day. Gradually your business WhatsApp account updates to different tier after a regular period. The tier updating process occurs automatically and it is impossible for manual changes.
Is bulk WhatsApp Sender legal?
Sending mass messages on WhatsApp stage disregarding the terms and state of this application is unlawful.
In an ongoing declaration, WhatsApp has expressed that abuse of mechanized mass informing highlight is carefully culpable under legitimate terms. This limitation authorized in light of the phony advances meandering in the midst of the clients.
There are client's records who sidestep the AI procedure of this application through unapproved mass messages. All the exercises which abuse their recorded terms and condition are unlawful. You need to maintain those guidelines when you use the underlying functionalities of the WhatsApp.

Conclusion
Therefore, you had an informative discussion on WhatsApp bulk message sender applications. These applications enhance your business processing and assist you to succeed in for the target customers easily. Connect with the above-discussed tools to understand more about its updated features. it's the right time to spice up up your profit sales amidst a competitive market by adopting unique innovative technology.